The Most Squandered Thing On Earth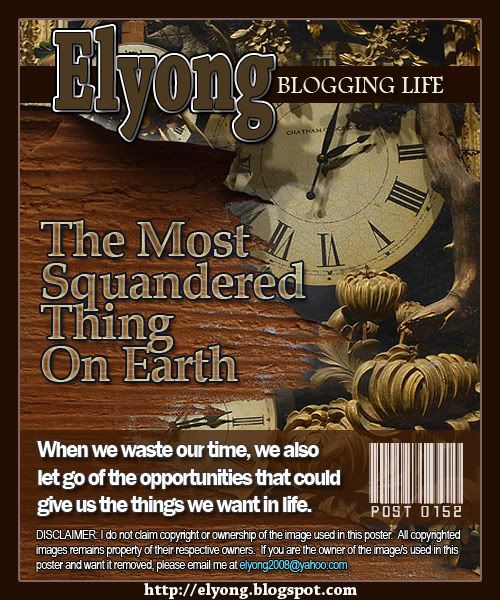 I hate
being late
. It's one of the things that I try to avoid. I am not saying that I was never late. I am still
perfectly human
, imperfect in all things. But, very seldom I am late. I cannot even remember the last time I was late for social and official appointments.
However, by not being late doesn't necessarily mean I value time. I was not really thinking about the value of time when I tried not to be late. I was thinking about keeping my record of being on time and respecting other people's time by not making them wait for me. Simply, the principle of reciprocity:
The ethic of reciprocity (also known as the Golden Rule) is an ethical code that states one has a right to just treatment, and a responsibility to ensure justice for others. Reciprocity is arguably the most essential basis for the modern concept of human rights, though it has its critics.
Source: [Wikipedia]

Do not do to others what would anger you if done to you by others.


Isocrates
I wish I am on time also for the reason that I want to manage my time well because I know its value.
Many would agree that time is the most valuable thing on earth. You could have delicious foods, designer clothing, fabulous homes and cars and even have all you want, but if you do not have time – you have nothing.
Time could also be our greatest lost. When we waste our time, we also let go of the opportunities that could give us the things we want in life. When we lost our time, it's gone forever. You can never take it back.
And sadly, the most squandered thing on earth is time.
Below is an article I found in the internet.
Imagine there is a bank that credits your account each morning with P86,400. It carries over no balance from day to day. Every evening deletes whatever part of the balance you failed to use during the day. What would you do? Draw out every centavos, of course!

Each of us has such a bank. Its name is TIME. Every morning, it credits you with 86,400 seconds. Every night it writes off, as lost, whatever of this you have failed to invest to good purpose. It carries over no balance. It allows no overdraft. Each day it opens a new account for you. Each night it burns the remains of the day.

If you fail to use the day's deposits, the loss is yours. There is no going back. There is no drawing against the "tomorrow".

You must live in the present on today's deposits. Invest it so as to get from it the utmost in health, happiness and success! The clock is running. Make the most of today.

To realize the value of ONE YEAR, ask a student who failed a grade.
To realize the value of ONE MONTH, ask a mother who gave birth to a pre-mature baby.
To realize the value of ONE WEEK, ask the editor of a weekly newspaper.
To realize the value of ONE DAY, ask a daily wage laborer with kids to feed.
To realize the value of ONE HOUR, ask the lovers who are waiting to meet.
To realize the value of ONE MINUTE, ask a person who missed the train.
To realize the value of ONE SECOND, ask a person who just avoided an accident.
To realize the value of ONE MILLI-SECOND, ask the person who won a silver medal in the Olympics.

Treasure every moment that you have! And treasure it more because you shared it with someone special, special enough to spend your time. And remember that time waits for no one. Yesterday is history. Tomorrow is a mystery. Today is a gift. That's why it's called the present!