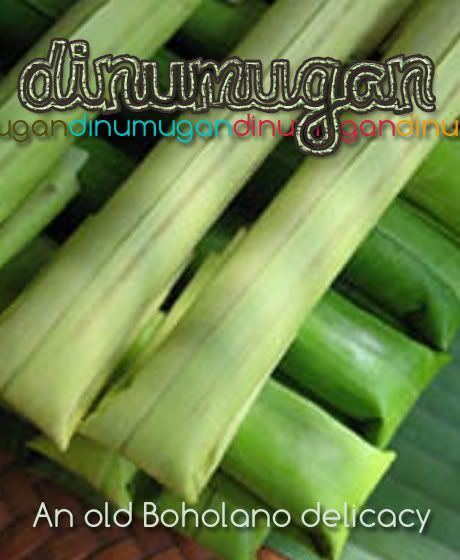 If you're a Boholano, you would have tasted or at least heard about Dinumugan. It is a type of suman (native rice cake wrapped in banana or palm leaves). What makes dinumugan different is that the main ingredient is ripe banana.
The last time I ate dinumugan was when I was still in high school. That was a long way back, but I can still remember its taste, a little sour because of we usually use an overripe banana, and sweet.
My mother knows how to cook it and I learned from her. I haven't done it for a while but I think I can still cook it, and probably better now with my improved cooking skills.
Here are the ingredients:


mashed banana (saba variety)
rice flour
coconut meat
coconut milk
sugar
banana leaf

I can't give the measurement right now. We don't measure it back in the province the way we do now. We just mix them together and we would know it is enough when we see it. If I have a chance, I will cook my dinumugan again.
Here's how it should be done:
Mix together mashed banana, rice flour, coconut meat, coconut milk and sugar. Wrap in banana leaf. Pile them in a cooking pan and let it boil until cooked.
Happy cooking.
.