The Right Type Of Friends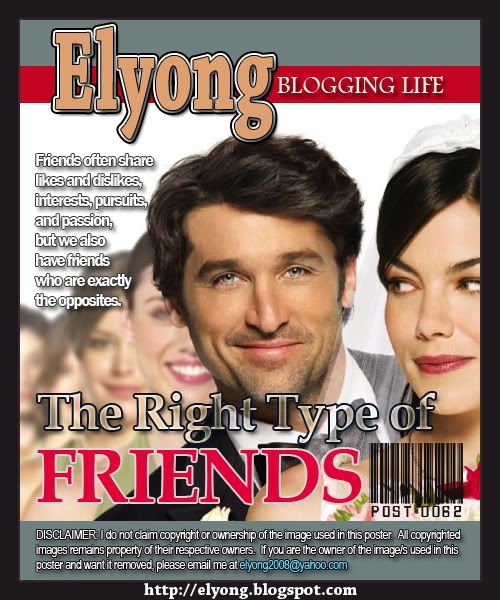 Everyone wants friends. We make chances to spend time enjoying our friends. We often make choices so that we won't lose our friends. They are pretty important to us and the Bible recognizes that too.
All types of relationships involve different levels of friendships. In fact, God spends a great deal of time instructing us on the importance and methods of choosing the right kinds of friends because there is the continual danger of damaging a good name by wrong friendships.
Do not be misled: "Bad company corrupts good character."


I Corinthians 15:33 New International Version
Not only do our friends cause others to make judgments about our character, but they also influence us to make judgments about basic decisions in life.
He who walks with the wise grows wise, but a companion of fools suffers harm.


Proverbs 13:20 New International Version
How can we find true friends? Friends often share likes and dislikes, interests, pursuits, and passion but we also have friends who are exactly the opposites. What is important is that we are familiar our friends' personalities and recognize them.
"Birds of the same feather, flock together", is this true? We have circles of friends. Each circle represents one of the personalities we have. We act differently in each circle. Which circle is the biggest?
Important Factors In Friendship
Relationship
– the attributes that linked us with our friends. This could be similar or complimentary behaviors and shared memories.
Trust
- we need someone we can share our lives, thoughts, feelings, and frustrations without worrying that those will end up somewhere the following day.
Accountability
- real friends encourage one another and watch over each other.
The Scripture tells us that a friend sticks closer than a brother:
A man of many companions may come to ruin, but there is a friend who sticks closer than a brother.


Proverbs 18:24 New International Version
In order for one to be a friend, one must show themselves friendly. The question is: what type of friend do you desire to be?
.
Originally Posted On 3/28/08 3:50 AM