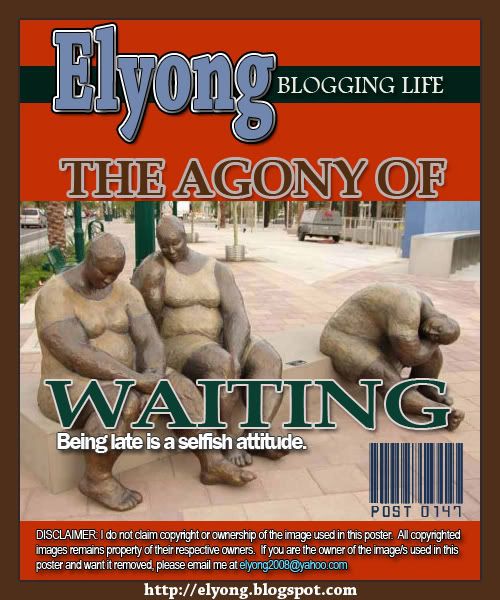 As I patiently waited for my flight in the departure lounge at the airport, the most anticipated paging system brought the noisy lounge to a standstill. My flight was delayed. The delayed arrival of the turn around flight caused it.
I am not a late person. I am not saying I was never late, but I would say that late incidents were rare.
Being late is a selfish attitude. I have told this many times to my friends and to the participants of the trainings I have conducted. Being late is being inconsiderate to people who arrived on or before the agreed time. Household chores and normal occurrence of events like traffic are not valid reasons to be late.
I don't expect people to be late too. I expect them to come on or earlier than the agreed time. When my friends come late, I would be clueless of what to do. Most of the time, I leave.
I read an article that in Great Britain; important persons arrive earlier during official functions, but would arrive late in social functions. "Grand entrance" is only expected in social functions, not in official functions.
Here in the Philippines, we have our own brand of time – the Filipino Time. I hope to see the day when its definition changes.
.