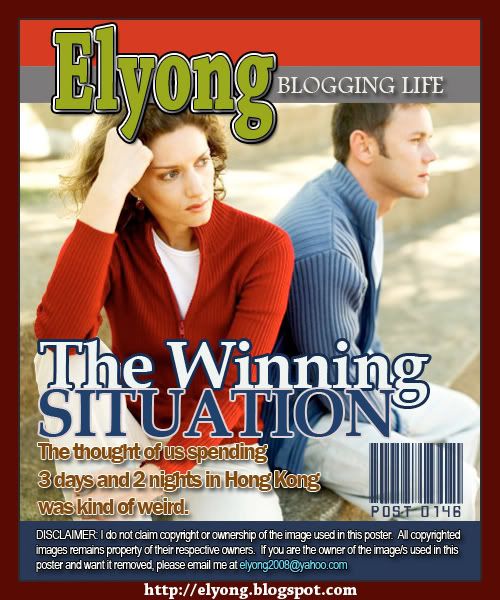 I passed by a lotto outlet inside the mall yesterday and saw the longest line I have ever seen. The jackpot prize of 340 million pesos drew more people than usual. People who don't normally bet probably fell in line. I was even tempted to join but the urge subsided when I remembered that I have no luck when it comes to raffles and games of chance.
The last and only time I won a raffle was many years back. I could not even remember what year that was. I am not even sure if I was really the lucky one.
After our breakup, my girlfriend of six years left to work in other place for the very obvious reason. Despite of what had happened, we continued to communicate.
A couple of years had passed. She took a leave from work and came back to visit her family. She called me up and asked to accompany her to buy a cellphone. We heard of a cellphone exhibit in a mall and went to buy one. The exhibit came with a raffle.
I didn't want to fill-in the raffle coupon but she forced me. I filled-in the coupon with a condition, she would keep the stub.
After a week, my ex-girlfriend left and went back to work.
Three months after I received a registered mail. I won a raffle. I could not remember I joined one so I threw it in the trash bin.
The following day, the utility man gave me back the mail. He thought that I accidentally threw it. I read again the mail giving attention to details. It mentioned about a cellphone exhibit. I remembered.
I called my ex-girlfriend. I told her that we won a trip for two to Hong Kong. I asked her if she still had the raffle stub. She told me that she already changed her wallet but also told me that she kept the old one somewhere and she would find it.
After a day, she called and told me that she found the raffle stub. She sent it to me.
The thought of us spending 3 days and 2 nights in Hong Kong was kind of weird. We converted the prize to cash. I wanted to send the entire winning prize to her. After all, it's her ticket. She was the one who bought the phone. I only had my name on the raffle.
She refused. She told me that she would not accept the money if sent in full.
I sent her half and I kept the other half.
.