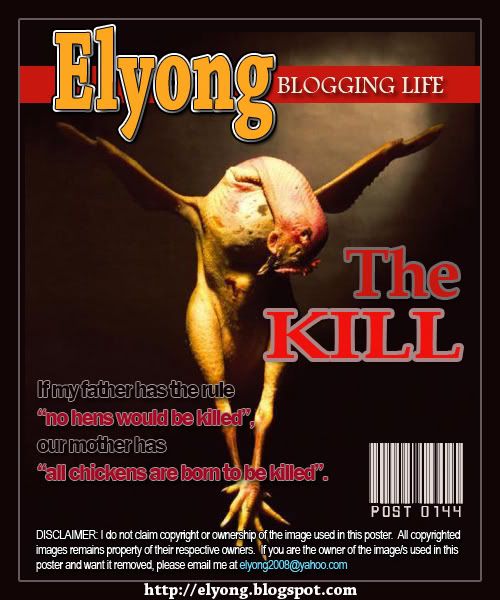 I was born and grew up in the province. Four legged and feathered animals are part of the population. Without them around, you would feel the earth stood still.
Every household have at least chickens and pigs walking around the yard. Yes, pigs enjoyed their freedom in the province during our time. Cats and caged birds are window decors.
Feeding chickens was one of my father's morning routine. Our front yard would be filled with chickens waiting for their morning food ration. Later in the morning, none would be left of them. They would be scattered all over the nearby farms and would come back later in the afternoon for to be fed again before hopping on the branches of the trees in our yard to rest for the night.
No hens would be killed. Only roosters would end up in our dining table. This is our father's hard rule. Hens lay eggs. Killing them would mean the end of multiplication. We spared only one rooster to spread his sperm to all the hens. Yes, one is enough.
Even with this killing rule, quite a number of roosters lived to survive in our yard. Nobody except our mother has the courage to end their lives. Without our mother, we wouldn't have chicken meal on our dinner table.
There are six of us and our mother is the only woman in the family. If my father has the rule "no hens would be killed", our mother has "all chickens are born to be killed".
.