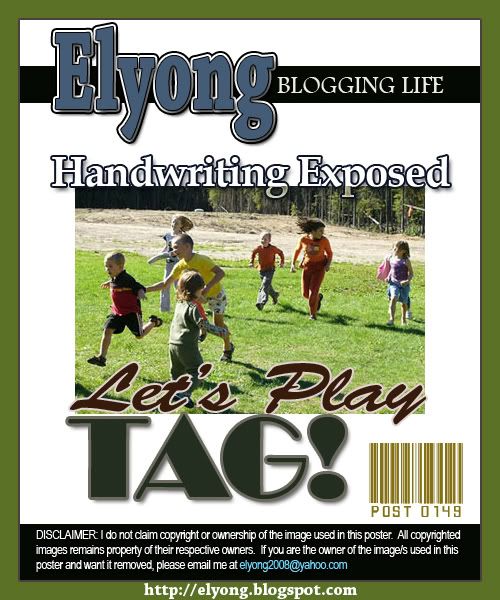 There are times and situations when we like getting the attention but there are also situations we avoid getting noticed. It is nice to be noticed in the blogging world, but the feeling of being tagged is different. There is a responsibility that comes along with it. You have to tag others too.
Vanvan
tagged me, but this one is different. You don't have to write long information about yourself. This time your handwriting will be exposed.
The rules are simple:
1. Write the name of the person who tagged you.
2. Answer the following:
- Your name/username/pseudo
- Right-handed/left-handed
- Your favorite letter to write
- Your least favorite letter to write
- Write "The quick brown fox jumps over the lazy dog."
- Write the names of the people you want to tag.
3. Take a picture of what you have written.

What I did is shown in the image below: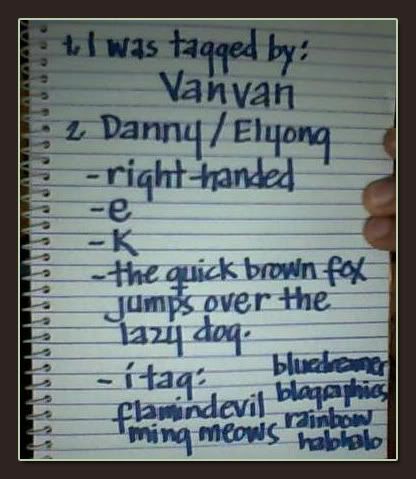 The image above showed the people that I want to tag. They are:
Flamindevil
Ming Meows
Bluedreamer
Blographics
Rainblow Halohalo
Sorry guys, it's just a tag, nothing serious. Just think of the movie: "The Ring".
.