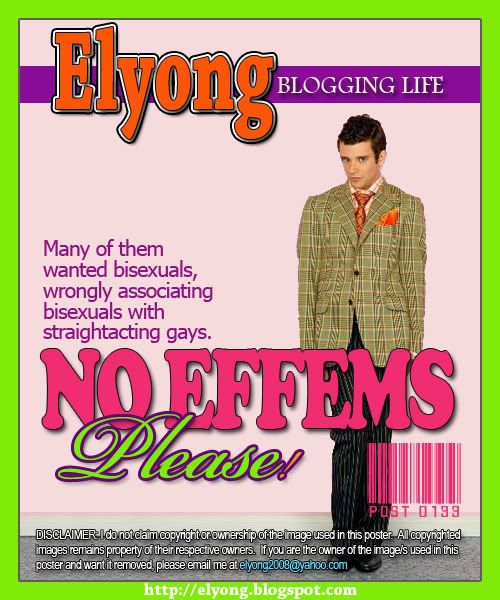 The world has started to embrace homosexuality. Maybe the "We're queer. We're here. Get used to it." has made the world realized its truth. But, just as the world loosens its grip on discriminating "third sex" (whoever coined these words needs to explain who the first was and what the criteria for judging were), discrimination within the ranks is rising fast, more cruel and vicious.
Browsing through gay social networks and dating sites, most of the ads have this warning: "No effems pls." What is bothersome is that most of these warnings come from straight-acting-trying-hards. Many of them wanted bisexuals, wrongly associating bisexuals with straightacting gays. This is why many would want to be tagged as bisexual even if they're not. How could a bisexual person spent all his time, resources and effort looking for men and no time for women? Bisexuality is a preference and has nothing to do with the person's physical appearance.
Effeminate gays are real people with real feelings. They may not be your preferred partner but shutting them down like unwanted creatures is ruthless.
It may not be explicit, but there seem to be ranking among the gays. Given all other things equal, the effeminate gays are rank lower than those who are machos and discreet.
Based on what I know, effeminate gays are friendlier and better persons than the pretentious and egotistical not-so-straighacting-trying-hard-to-look-like-one or bisexuals as they would want to be tagged.
.