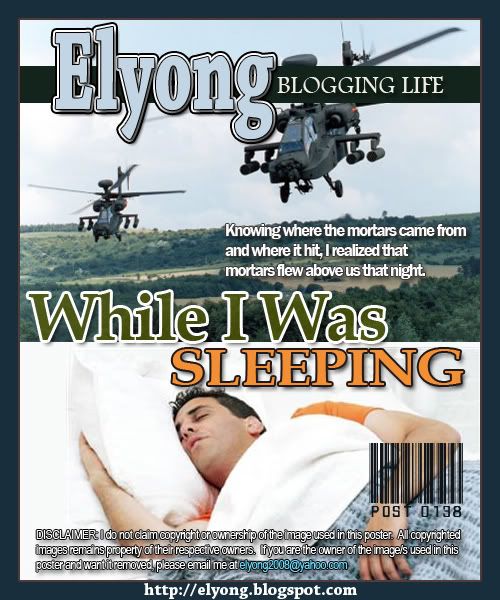 When I went to the dining area to eat my breakfast, I was asked by Bother Jerry (not his real name) if I heard the explosions last night.
There were five of us in the house that night, two priests, two brothers (future priests, waiting to be ordained) and me.
I was the only one who had not heard it. I was clueless. I went to bed at around 8pm, woke up for my midnight-leak ritual, went back to sleep and got out of bed at 6 o'clock in the morning.
The only thing I was aware of was a number of helicopters above us in the afternoon until dinner time. But I was expecting those because there was an ongoing military encounter with the Red Cross volunteers' kidnappers at the mountains in the nearby towns.
The town was attacked that night at around 10 o'clock in the evening. Mortars were shelled at a nearby military camp. Some of the mortars went to a residential area and hit a house with people inside.
Knowing where the mortars came from and where it hit, I realized that mortars flew above us that night.
Some local residents took shelter at the school nearby but went back to their houses the following morning. Classes were suspended in some schools.
I was also informed when I arrived at the town hall that one of their employees was killed and burned the government vehicle he was driving.
All these things happened while I was sleeping.
.