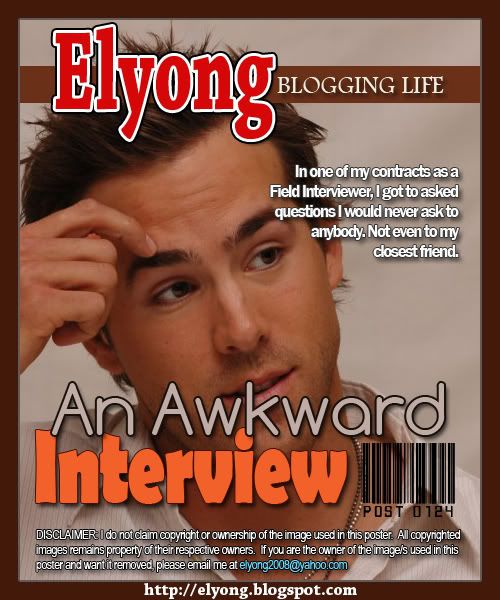 One of the more tiring jobs I had was being a Field Interviewer. The uncertainty of finding the respondents in an unfamiliar place would get on my nerves. But, working as a Field Interviewer was not all nerve wracking and tiring. It had fun and humor too.
In one of my contracts as a Field Interviewer, I got to asked questions I would never ask to anybody. Not even to my closest friend.
Some of the questions asked to both male and female respondents went like these:
When was the first time you had wet dreams?

Have you mast**bated?

When was the first time you mast**bated?

How often do you mast**bate?

Have you had se*ual Inter*ourse?

When was the first time you had se*ual Inter*ourse?

Was it with a male or female?

Where did you do it the first time?
There were other simpler questions about bf, gf, m2m, g2g relationships, kissing, petting, learning s*x, s*xforpay and just for fun.
It was more difficult to ask these questions to female than male respondents. What made the job harder is that we did it in the province.
We had strict policies prohibiting us to share respondents' responses to other field interviewers. But when we got together in the lodging house we stayed, especially meal time, we could not help but spill the beans. After all, none of us knew our respondents personally.
.