Laughter Is Still The Best Medicine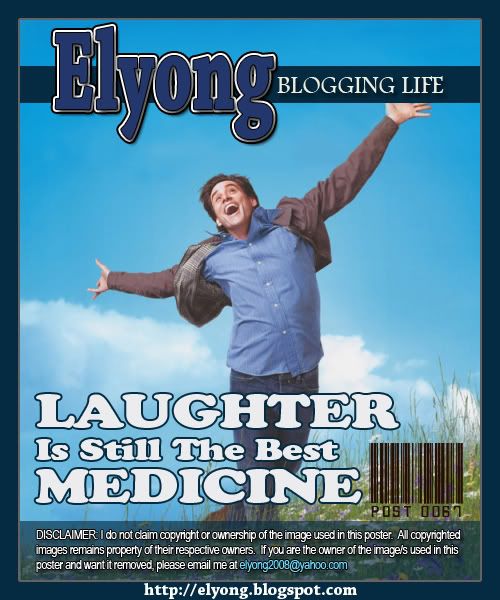 One Million and A Cent
John: God how long is a million years to you?
God: It is but a second Jamie.
John: God how much is a million dollars to you?
God: It is but a penny to me
John: God can I have a penny
God: Just a second
Show Me The Money
A preacher announced from the pulpit," I have good news and bad news. The good news is we have enough money to retire the mortgage on the church." A sigh of relief went through the congregation. The preacher continued: "the bad news is: the money is still in your pocket."
Interesting Sermon
A sermon should be modeled as a woman's dress... long enough to cover the subject, but short enough to keep it interesting!!!
Speaking In Prison
A pastor just fresh from Bible College, was invited to speak at a chapel service in a prison. He was very excited but being his very first time, he was very nervous as well. He thought hard how to introduce his message. On the day he arrived at the prison, he was greeted by a large group of prisoners waiting to hear him. As the young pastor walked and stood behind the pulpit, he said, 'Good morning. It's so good to see you here!'
Get Behind Satan
Struggling to make ends meet on a first-call salary, the pastor was livid when he confronted his wife with the receipt for a $250 dress she had bought. "How could you do this?!" "I was outside the store looking at the dress in the window, and then I found myself trying it on," she explained. "It was like Satan was whispering in my ear, 'You look fabulous in that dress. Buy it!'" "Well," the pastor replied, "You know how I deal with that kind of temptation. I say, 'Get behind me, Satan!'" "I did," replied his wife, "but then he said, 'It looks fabulous from back here, too!'"
Sorry For Living Longer
An 85 year old couple, having been married almost 60 years, die in a car crash. They had been in good health the last ten years, mainly due to the wife's interest in health food.
When they reached the pearly gates, St. Peter took them to their mansion, which was decked out with a beautiful kitchen and master bath suite with Jacuzzi. As they "oohed and aahed", the old man asked Peter how much all this was going to cost.
"It's free," Peter replied, Remember, this is Heaven."
Next they went out back to see the championship golf course the home backed up to. They would have golfing privileges every day, and each week the course changed to a new one representing the great golf courses on Earth. The old man asked, "What are the green fees?"
"This is heaven," St. Peter replied. "You play for free."
Next they went to the clubhouse and saw the lavish buffet lunch with the cuisine's of the world laid out. "How much to eat?" asked the old man.
"Don't you understand yet?" St. Peter asked. "This is heaven. It's free!"
"Well, where are the low fat and low cholesterol foods?" the old man asked timidly.
"That's the best part...you can eat as much as you like of whatever you like and you never get fat and you never get sick. This is Heaven."
The old man looked at his wife and said, "You and your stupid bran muffins. I could have been here ten years ago!
God Is Getting Better With Creation
A little girl was sitting on her grandfather's lap as he read her a bedtime story. From time to time, she would take her eyes off the book and reach up to touch his wrinkled cheek. She was alternately stroking her own cheek, then his again. Finally she spoke up, "Grandpa, did God make you?"
"Yes, sweetheart," he answered, "God made me a long time ago."
"Oh," she paused, "grandpa, did God make me too?"
"Yes, indeed, honey," he said, "God made you just a little while ago."
Feeling their respective faces again, she observed, "God's getting better at it, isn't he?"
.