Anxieties Inside The Closet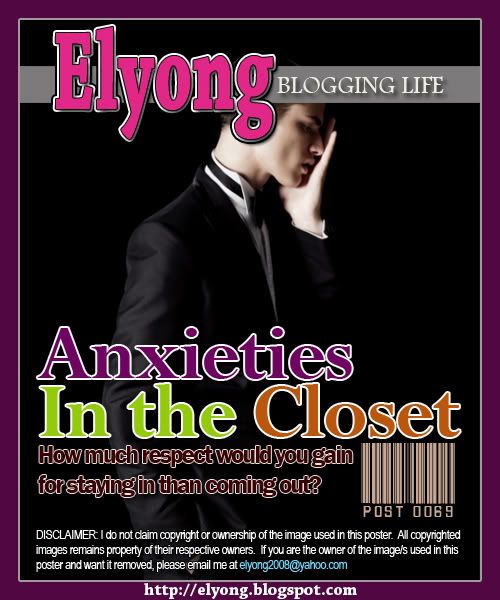 The words "in the closet" may mean nothing to many people but to the hidden crowd it is a very real part of their life. Imagine that a part of you is an island while the rest is out there. There is no question that it is a personal choice to come out and live life in the open. Most people think that there are inherent risk in coming out but there are also substantial risk to staying in.
Living a life that is open and honest is one that brings respect from others and from one's self. How much respect would you gain for staying in than coming out? Is respect based in or out in the closet?

If no one ever took a step out of the closet, where would the rest be? Would they remain staring at the back of that door, cowering in the darkness, hoping no one would open their "doors" and shine the light on them?
Does staying "in" means that being gay is something to be ashamed of and something that doesn't deserve recognition? Wouldn't it also mean that you love others more than yourself that you wouldn't want to hurt them and put in the dilemma you are in?
The heterosexuals might not even care about the emotional aspect of being in the closet. The open person who wears their gay sexual orientation on his or her sleeve- without much opposition- may not understand.
There are factors that contribute to being in the closet. Some of them are listed below:
Religion
If you talk about same sex relationship with Christians, almost all of them would refer you to scriptures about men who were attracted to men or women attracted to women. Many of those living inside the closet are raised with a religious up bringing. At a very young age, they were taught to cultivate a love for God and live a moral life. It is difficult to have an open same-sex relationship when their religious background as they understood is strictly against any romantic love between two people of the same sex.
Family
It would be a rare find to have parents expecting their child to be gay. The thought of going against the heterosexual expectations set by parents may be too fearful. That is why hiding same-sex attractions seems to be an easier route rather than risk being ousted by the family.
Society
Society taught us to be heterosexual. Girls are told to have dolls and boys are told to be strong and masculine. In the workplace, people often talk about dating situations with the opposite sex. In school, sexual education discussions center the topics on abstinence until marriage, teen pregnancy and safe sex with condoms. All of which address heterosexual sex, the person in the closet may not want to be seen as the deviate.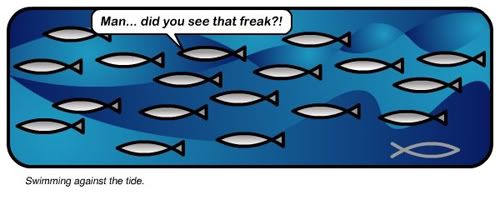 Gender-role Expectations
Recently, gender-roles may not be as rigid; however, they do still exist. To be classified as a "woman," a female most likely feels pressure to display what is largely considered to be feminine traits. To feel "manly," males feel pressure to show little feeling and emotion. There is the view that having a same-sex attraction goes against the traditional roles assigned to men and women. Often those who are in same-sex relationships are asked, "Who is the man, and who is the woman?"
There can be thousands of other personal reasons why the person in the closet feels forced to hide his or her hidden sexual emotions, but really, what does it feel like to live in this way?
There are plenty of gay jokes to go around. Plenty of people say anti-gay remarks without second guessing themselves. Most never think that their bother, sister, son or daughter might be hiding feelings that they feel impossible to express. Most never think that the pain and isolation felt within the closet can lead to suicide, drug abuse and clinical depression. "In the closet," it is a very simple term, with very complex consequences.
.